Home and Office Removals
Here at Arnolds Removals we offer a full removal service for domestic and commercial customers. We have an extensive fleet of well equipped vehicles and can undertake removals of all sizes. Based in Hull, we carry out removals locally and all over the UK and into Europe.
Whether you are interested in a home removal or office removal, please fill in the Request a Quote form on this page and we will contact you to discuss a price for your removal.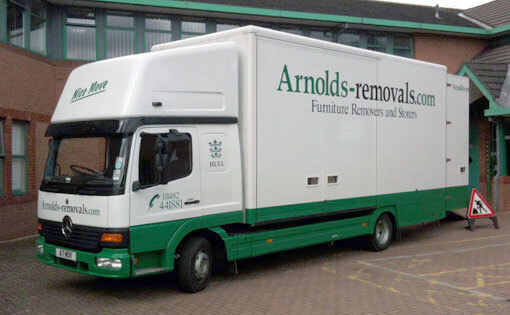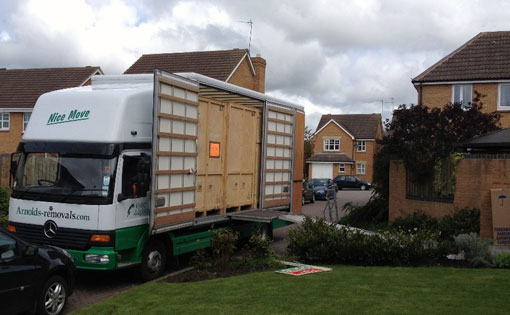 We know that moving home is a stressful experience. We can provide you with the peace of mind that our highly trained staff are packing, loading and moving your personal and cherished belongings using the latest materials, techniques and procedures to make your move go smoothly.
As an accredited member of The British Association of Removers, our reputation is critical to our business and therefore, we just can't afford to let you down.
Over 90% of our removal and self storage business comes from referrals.
Why Choose Arnolds Removals For Your Removal?
All staff are fully trained in all aspects of packing, moving and storing.
Personable, friendly sales and support staff who are always there to help.
Modern, clean fleet of vehicles to satisfy any requirement.
Our own fully containerised storage facility.
Extensive range of specialist packing materials.
Comprehensive liability cover for your peace of mind.
Here is a handy checklist to use when planning your move.
If you would like a free estimate or advice please call us on 01482 441881 or send us a message.
Great removal service and would definitely use Arnolds again. Wayne, Paul and Nathan were brilliant on the day, really helpful and friendly.
Richard Wood
12:16 21 Sep 22
Nathan and Paul were very good. Cost effective. Very careful with the products and very punctual. I must say ,one of the best moving services at Hull.
Sakura Kino moto
20:30 01 Sep 22
Our removal men were Rich and Mikey from Arnold Removals and we were absolutely thrilled and delighted with everything they had done for me. I had done my back in and they stepped in to help me finish packing and when I reached my new place they built my bed for me, placed all my furniture in the correct rooms for me, I couldn't have wished for 2 better removal men and I would recommend them to all my friends and family was over the moon with politeness, professionally, fragile object well protected, I couldn't fault them. If we were to move again I would absolutely use them, highly recommend to use them in the future. From Simon and Mary Dodds
mary Dodds
12:48 26 Jul 22
I cannot rate Arnolds highly enough. Paul, George and Nathan moved an unreasonable amount of possessions for us, and could not have been better. They were friendly, professional and barely complained about having to carry countless boxes of books (sometimes packed by fairly unsympathetic hands) up two flights of stairs. I would definitely recommend them.
Colin Veach
18:49 25 Jul 22
Paul and George did our removal out of storage and into a flat still in the process of being renovated. They had to cope with some difficult situations which they did with great efficiency, professionalism and sense of humour. Well done.
Paddy Thompson
08:10 19 Jun 22
Brilliant experience with Arnolds when I moved 3 weeks ago, when booking it was all easy and flexible. Wayne and Barrie were absolutely fab on the day, and when we came across some issues they had creative solutions which saved time and money for everyone. I definitely would recommend their service to anyone!
Thanks Shane and Paul for your patience and understanding and good humour. Very careful in my new place as I was a nervous wreck about all the padding in and out but took great care. Very punctual and professional.
Christine Wiles
18:29 14 Jan 22
Paul and Adam were both excellent, they had us moved from the old house to the new with the minimum of fuss, even having to dismantle and reassemble a large wardrobe in the process. Would definitely recommend 👌
A short move, Withernsea to Kilnsea (about 10 miles) but far from simple, with our new home still only part complete, and quite a bit of dismantling and reassembly required. Shane and Nathan made the task seem straightforward; they were helpful, tidy, careful and hard-working, and their banter turned what should have been a stressful experience into good fun! Thoroughly recommended - for both quality of service and value for money.
mark andrews
22:14 09 Dec 21
Arnold's offer a great quality moving service and Mikey, Shane and Adam are top quality movers who handle your items with the utmost care and professionalism. They also offer a really competitive price for their top-notch service.You can rest assured because they're BAR members with decades of removals experience.Carl is a bit old school, but don't let that cloud your judgement he knows his stuff and is hands-on with his business and has worked his way up from the trucks.
Wayne, Barrie and Nathan arrived on time, were very supportive to my extremely stressed self and worked their socks off. Despite some awkward stairs at both addresses, they were very careful with my furniture, and the newly painted decor. Highly recommended.
The stress of moving house is always quite high. But we had WAYNE and PAUL helping us. They turned up and got to work straight away. Professional and always happy to help with the final bit you need doing. Great Service and Great Men. Thanks again Arnolds!!
lewispaps5225
20:58 27 Sep 21
Friendly, trustworthy and efficient. Carl was able to accommodate a last minute move from Hull to London for me. Shane and Adam delivered my stuff safely and without damage, plus they were very friendly and efficient. All in all between consultation and completion it took roughly a week. My advice, be clear with your requirements and come to them with a firm moving date; they will take care of the rest.
We recently moved from Plymouth to Hull using Arnold's. We were fortunate enough to have Wayne, Berrie, Adam and Shane from the Company helping us. Together they took a significant degree of the stress of moving off our shoulders. They were fabulous. They were all very friendly, polite and extremely helpful. Highly recommended.
Vennie Venn
18:30 21 Aug 21
Thank you to Paul and Nathan for moving us in! Great service, very friendly and efficient move. Thanks so much!
Moved house with the help of Nathan, Shane and Adam F and they are superb. This is the second time they've helped us move and I'm not sure we can ever move house again without them. Can't rate these guys highly enough
Lynsey McMahon
11:02 29 May 21
What a team! Thanks to Shane, Wayne and Nathan for moving our business.Professional, caring and strong, nothing too much trouble.Always smiling and polite despite all the hard work.Nothing phases these guys and when traffic wardens ruin your day, these guys simply find a solution without dramas.If your moving your home or business you would me mad not to call Arnold's.
Simon Pownall
09:36 21 May 21
Highly recommend Arnold's Removals for a stress free house move! Very efficient team from start to finish. Thanks to Carl for organising our house move, Mikey, Shane, Paul & Adam F worked tirelessly completing our house move over a couple of days to a very high standard. 5*Thanks againThe Precious family
Jordan Precious
15:54 06 Mar 21
Another great experience from Arnold's removals.Wayne and Mike were extremely efficient but also a good laugh during the day. Cannot recommend enough.
James Shelbourne
13:53 21 Feb 21
Carl provided a fantastic service from the initial quote to confirming a removal date at short notice. On the day we had amazing service from Nathan , Shane and Adam F. They were punctual, professional and accomodating. They worked tirelessly all day to pack up and unpack at our new property. We would highly recommend Arnolds. Thanks for the great service and making the day a stress free as possible.
George Mangan
17:22 18 Feb 21